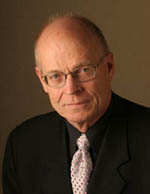 Roger has over fourty years of experience in taxation, estate and financial planning matters.
His emphasis is on the family unit and has been the advisor and confidant to some families for his entire professional career.
Involved in his profession, he was a member of the insurance committee of the Institute of Chartered Accountants of Ontario for seven years, including a term as chair, and a member of council for six years.
He has lectured in taxation at York University and the ICAO School of Accountancy and has spoken extensively on Estate Planning matters.
Always a firm believer in continuing professional development, he and his staff participate in a great number of courses each year, far beyond professional requirements.
Roger is married to Nancy, has three children and eight grandchildren.
Contact Roger:  roger.ball@ebdcas.com
416.293.5560 x 202